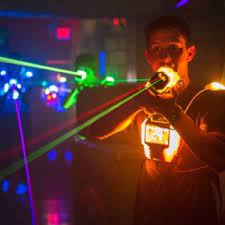 Frequently Asked Questions for Laser Tag Birthday Party Events
Thank you for considering booking your event at Invasion Laser Tag. To help events run smoothly we have included some frequently asked questions.
Is there a minimum /maximum number of children required? The party package pricing is based on an 8,10 or 15 person minimum depending on the package. The maximum number of players per game is 36.
Is there a minimum age? The minimum age to have a birthday party is 8 years old. Guests who plan on playing should be at least 7 years old.
Do you have private party rooms? No, the party room is not private. Invasion Laser Tag can hold up to four parties at a time in a 1,200 sq/ft party room(about the size of three two-car garages) with seating for up to 100 people and four separate entrances to the room. Each room is sectioned off with an 8 foot partition separating rooms.
Do you have party invitations we can print or email? Yes, you can download an editable and printable birthday party invitation here.
Will we have private games? We have a 5,000 square foot area with the capability of playing 36 people at one time. Laser tag is more fun with more people. Renting the facility or booking a package with private games is the only way to ensure private games.
When do you need a final headcount? The guaranteed number of children is required one week prior to your party date. You will be charged for the number of children that you confirm on this date. If you have last minute subtractions you will be charged for 2 less than what was confirmed. Any last minute additions should be called in at least 24 hours prior to guarantee adequate pizza.
How do you handle siblings who are not on my guest list? Am I charged for them at the package price? If they are participating in the party and you wish for them to have party food, drink, and laser tag games, they will be added to your guest list and you will be charged the package price. If you need help with additional guests arriving  who are not on the guest list, we are happy to assist you.
Can parents play for free? The parents of the guest of honor are allowed to play for free with the Extreme party package only. However, all other adults who are participating in the party and you wish for them to have party food, drink, and laser tag games will be added to your guest list and you will be charged the package price. If they are not participating in the party and are only attending in order to play, you will charged a discounted rate of $7.00 per person per game.
What time should I arrive? Please be courteous to the party ahead of you by arriving no more than 10 minutes early.
Can I decorate ahead of time? You are more than welcome to drop off any party decorations prior to your party. However, your party host will completely set up your party at your scheduled party time. 
What about decorations? Can I bring my own? Invasion Laser Tag supplies all of the necessary decorations and paper products for your party including table coverings, plates, napkins, and serving utensils. If you have special decorations that you would like to bring in, you are certainly free to do so. Balloons must be blown up ahead of time. No helium tanks are allowed in the facility. Please keep in mind, no silly string, confetti, feathers or blow horns.
Can I bring in my own goodie bags? Yes, we do ask, however, that you please give them out to the children as they are leaving the party so that small toys and candy do not end up in the arena. Please note we are a peanut/nut free facility.
Do you supply birthday cake and ice cream?  Please bring your own cake or birthday treat with the Extreme Package and VIP Package. We do provide plates and forks for your birthday treat.
Can I bring in my own party food? Yes, but only if you have booked an Extreme or VIP party package, which includes the party room. If you booked a Group Reservation, only water is allowed in the lobby area. We also prohibit nut products including any food that contains any type of nut or nut oil and any type of fish or shell fish.  Please be courteous of others parties when bringing in outside food. Please let us know ahead of time regarding the food and drink you would like to bring. Please keep all food out of the lobby area. Additional pizzas and soda can be ordered through Invasion Laser Tag.
Can I reserve a private party or rent out the entire facility? Yes, contact us at 760-571-9191 or email us at [email protected] to book your private party.